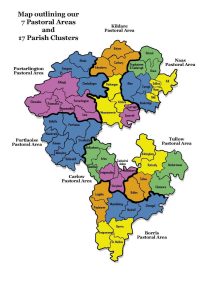 PUTTING OUT INTO DEEP WATER
In September last Bishop Nulty issued a Pastoral Letter about the structures and  supports we have to put into place as we plan for the future.
The "Put out in the Deep Water" journey has progressed with a number of meetingsof the Diocesan Pastoral Council, Council of Priests, clergy meetings and meetings with clergy, lay people and members of Parish Pastoral Councils.
Jim Deeds, who has facilitated these meetings has complied reports from the  recent 7 Pastoral Area Meetings held across the diocese. The reports are available on the Diocesan website    https://www.kandle.ie/put-out-into-the-deep-water/
The following is the report from the Tullow Pastoral area which includes our parish.  It took place on the 8th June 2023.
PARISHES IN ATTENDANCE:       
Baltinglass + Rathvilly                    Hacketstown + Clonmore                 Tullow + Ballon
Welcome – Bishop Denis spoke to all who had gathered to set the scene four our meeting and for this mission we are called to in putting out into deep water. He spoke of the decline in numbers of priests and priestly vocations as well as the decline in the attendance at Church of lay faithful. He highlighted that we have organised ourselves and the way we have operated as Church was no longer possible going into the future.
However, he reminded us that it is part of our collective baptismal calling to let the Holy Spirit speak to us in new ways at this time, as we explore how best to support one another in building the Church into the future. He ended by telling us that these meetings are but one chapter in a bigger story, and that we need to look after each other as we forge new identities as clusters of parishes, called to work more closely together.
Diocesan Pastoral Council – A member of the Diocesan Pastoral Council then gave an update of their work in supporting Bishop Denis over the last number of years. These meetings and subsequent gatherings come from the deliberations of the Diocesan Pastoral Council, as well as the Council of Priests in the Diocese.
Purpose of the meeting: The meeting was facilitated on Zoom by Jim Deeds and in the room by members of the Diocesan Pastoral Council. As we began, Jim set out the purpose of our gather as follows,
This is a time of fellowship, prayer and conversation together. This is our first step on the way to 'putting out into deep water' together, going and growing where the Holy Spirit is leading us. In that way, our hope is that we leave feeling refreshed, energised, galvanised and a little clearer about where God is leading us.
Further, Jim explained that the meeting would be structured around three questions to be discussed and one moment of prayer together.
Guiding principles for our meeting
Optimistic stance – everyone we meet is doing the best they can with what they have at this moment in time
45 second rule – there is very little that cannot be said in under 45 seconds. In other words, nobody will seek to dominate the conversation
St Paulinus of Nola – 'let us listen to all the faithful because in each one of them the Spirit of God breathes'. In other words, we will listen to and respect each other
Q1          The map setting out your cluster of parishes represents one of our first movements 'into the deep water' as we seek to discover where the Holy Spirit is calling us to go and grow. When we see these new structures/ lines and when we hear what Bishop Denis has outlines, how do we feel? What do we think?
These are a cross-section of the answers we heard:
| | | |
| --- | --- | --- |
| We are in a new reality | We are a very large area to be cared for | Change can be positive and hopeful, or negative and frightening |
| Some of our parishes are already co-operating well | Will we still have Mass in every church? | Will people still go to Mass? |
| Will we retain our identity? | We need to be open to what needs to be done | We know change is coming |
| Might it be better to have two clusters here and not three | We need to get to know each other | Good for us to be united – no guilt about going to Mass in other parishes |
PRAYER: We prayed with Luke 5:4-7, a section of Scripture where we hear Jesus tell Simon to put out into deep water and pay out his nets for a catch. We spent time meditating on this piece and shared some of our thoughts:
Trust
Go where Jesus points us
Do not be afraid to ask for help
If you say so (Jesus), I will do it
Put out into the deep water
We are a piece of a jigsaw
The results will be beyond our imagination
There is abundance with God, accept the challenges
God knows what God is doing, we don't
If we feel that God is urging us to do something and we are brave, we won't be disappointed
A little help can save us – let us accept and receive
Q2 We agreed guiding principles at the start of this meeting and they helped ensure we did the best we could. As we prepare to put out into deep water together, going and growing where the Holy Spirit would call us, are their principles that we should agree to that would guide our decision making?
Be realistic about the future
Compromise for unity
Be fair for a sustainable future
Mutual respect
Support and consult
Open to give and take, and hearing what others have to say
Communicate far and wide
Work together to retain our identity rather than be absorbed
Be open to accepting the changes that are going to come
Value and respect each other as we follow Christ
Share the work
Q3 We are proposing that we meet again in September to keep our dialogue going and to make more concrete plans into the future. In the months between now and then, are there some action points that your cluster of parishes might want to agree to that would help us go and grow where the Holy Spirit is leading us?
Baltinglass + Rathvilly
We have work to do to reinvigorate our own Parish Pastoral Councils
Once this work is done, we will call a meeting of the councils together
We will ensure that the existing co-operation is continued
Hacketstown + Clonmore
The priests from Hacketstown and Clonmore will swap for one weekend and say Mass in the other parish
We will hold a joint Parish Pastoral Council meeting
We will include some news about the other parish in the newsletter
Tullow + Ballon
Have a discussion about how the new map of parishes came about so this discussion can be shared wider
Enlarge the map we have and share it across parishes, newsletters, church porches
Spread the word to people – not only those who are currently attending Mass
We will have a joint Parish Pastoral Council meeting between now and September
We will explore way to reach out to the general public and get their opinions
We will share a report of this meeting
Reflection on meeting: Bishop Denis gave us some of his reflections from the meeting, saying that what stood out for him was the image of us not being disappointed if we do what God is urging us to do. He reflected that there are some concerns people have, particularly around loss of identity. He took heart from the comment that 'God knows what God is doing' and spoke positively of the co-operation that was already happening. He encouraged work to reinvigorate Parish Pastoral Councils.