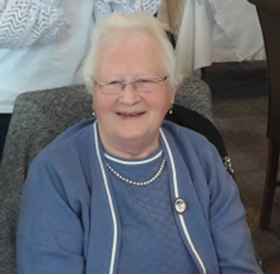 DEATH OF MAGS (MARGARET) BYRNE R.I.P.
It was with great sadness that we received the news of the death of Mags on Saturday. It was hard to believe that this had come to pass given that she was active up to three weeks ago.
Mags was well known in Baltinglass. She was a familiar figure in St. Joseph's Church and St. Paul's Oratory where she served as Sacristan. In this role she shared in the lives of so many people through daily Mass, at baptisms, weddings and funerals. She was always there to give a helping hand, and on many occasions offer reassurance and support.
Her presence was very much appreciated in the Parish Centre. There people received a warm welcome and friendly smile, and very often a cuppa!
We never expected that Mags would leave us so suddenly. She was one of those people you expected to be around forever. Sadly, that is not to be and Mags has been called home to God. We will miss her but we pray that God has called her to share in the heavenly banquet.
We extend to her family our deepest sympathy at this time. While the loss to the parish is great, theirs is a greater loss.