A Sacred Place
It was a beautiful evening when I re-visited the Nuns' graveyard, at the back of St. Joseph's Church, Baltinglass, Co Wicklow. My daughter and granddaughter were with me, and like hundreds of children before her, Lauren immediately spotted the shiny, brown conkers that lay on the grounds around the cemetery. And just like generations of other youngsters, she busied herself by gathering up as many of the conkers as she could. No doubt, the Presentation Sisters, taught for years in Baltinglass, over-saw countless games of conkers in St. Joseph's National School play-ground.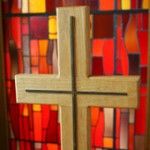 Making our way to the cemetery, a cool breeze was blowing to remind us that the colder months weren't far away, but it was a balmy afternoon on August 9th that brought me to the Nuns' cemetery the last time. That's when a special Mass was celebrated in memory of the Presentation Sisters whose home was the stately convent that nestled at the foot of Baltinglass hill. The Sisters ruled the local girls' school with both an iron fist and a gentle hand as generations of children were taught many lesson by them.
The Sisters are mostly gone from the town now, with just two Mercy Sisters, Sr. Carmel and Sr. Brigid now being valued members of our community. The memorial Mass was celebrated by Fr. Tommy Dillon with music by our choir, under the guidance of Sr. Brigid and Mona Nolan.
It was fitting that members of the Presentation Sisters returned to Baltinglass for the event. Memories of their time here must have been stirred by both the Mass and the location of it.
Their cemetery had been in grave danger of being eroded by time and neglect, but the parish and the Presentation order had the foresight to step in and preserve it.
A beautiful space was thus created, a place for reflection, a place of peaceful quiet. Solid granite walls stand to protect the burial ground while old chestnut and oak trees try their best to shelter them for the wind. A statue of Our Lady is snug in a granite grotto after being brought, carefully, from the convent. She's now safe and stands regally waiting for those who wish to pray.
The preserved graves date form 1902, where a St. M Francis Whelan lies, right through to 1974, when Sr. Albeus Doyle was laid to rest. Whereas once the convent bustled with life as the Presentation Sisters went about their daily lives, it now lies silent.
But beside it, we now have a beautiful place, the nuns' cemetery and grotto. A place that's worth a visit, no matter what time of year it is.
Anne Lee