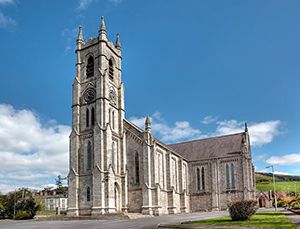 Saturday Vigil
6.00pm
Confessions immediately after the 6pm. Mass
Sunday
11.00am
Tues - Fri
10.00am in St. Paul's Oratory
On Monday, Liturgy of the Word & Holy Communion 10.00 am in St. Paul's Oratory
Holy Days
Vigil Mass at 7.30pm & 0n the day at 11.00am both in St. Joseph's Parish Church.
The early 1800's witnessed a new prosperity throughout Ireland. A resultant increase in the population of Ireland bore witness to the dawn of a more prosperous era. Baltinglass Parish was no exception to this growth and the population of the Baltinglass and Stratford area by 1837 exceeded 4,100. It soon became evident that the Penal Church on Chapel Hill, situated in the south-eastern corner of the old cemetery, was no longer able to accommodate all those who attended Mass. A new site was identified and in 1845 the construction of the present St Joseph's Parish Church commenced. However, Ireland and Baltinglass were soon to suffer the effects of a catastrophe that made Church building programmes rather inappropriate. The 'Great Hunger' of the Famine of 1845 to 1847 descended on Baltinglass and its surrounds with an equal ferocity as it did in almost all other parts of Ireland. The construction work on the Church ceased and did not recommence for a number of years thus delaying the completion of the work until 1855 when it opened for public worship. The Bishop of Kildare and Leighlin, Rev. Dr. Walshe dedicated the Church on the 21st of April, 1855.
One of the most striking features of St Joseph's Church is the magnificent main altar in the French style made of wood and carved by a local carpenter named Evans. This was erected by 1883. Masses are now celebrated on a smaller altar opposite the main central feature. The ornate ceiling and side altars also adorn the interior of this beautiful Church.
In the 1800's ballooning was one of interests of the Earl of Aldborough and he had a balloon house constructed next to his residence (where the present Golf Club pavilion now stands). The Earl's residence and balloon house were extensively destroyed by fire and stood as ruins. When it was decided to add a Church Tower, granite from the Earl's ruins was used and the tower was completed in 1887. The Church gallery was also a feature of this addition.
In 1891, a Mr. Whyte built the Church organ and a bell and clock were installed in 1895. However, the bell was defective and was replaced in 1898.
Today, this majestic granite building stands tall reminding one and all of the endeavours of those who have gone before us. The grounds of the Church are also the final resting place of some of the former Parish Priests of St. Joseph's Parish.