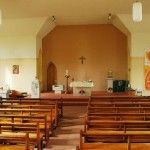 Sunday
9.30am - Every second Sunday

2020 – July: Sun. 5th & 19th; August: Sun. 2nd, 16th & 30th; September: Sun. 13th & 27th; October: Sun. 11th & 25th; November, Sun. 8th & 22nd; December, Sunday 6th & 20th.
The Church of Saint Mary in Stratford is a beautifully quiet space in idyllic countryside and set in a picturesque village. Visitors to the Church will find a quiet space but comfortable to spend a few minutes in prayer. One of the most beautiful features of the Church is the beautiful tree just outside the front door, reminding those who come to worship to take note of the God who reveals himself in nature and the rhythm of the seasons.
Stratford was once a busy and prosperous community. The village was founded by the Stratford Family who came to Ireland in the 17th Century. Once a thriving mill town, it went into serious decline in the 19th century and the population is now far less than before. The village keeps a sense of rustic charm and is secluded enough to have escaped huge development in recent years.
The Church in its present for dates from the 1840s. It was built on the site of an earlier chapel that dated to c. 1780. It underwent renovations in 1981.