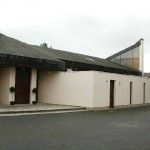 Sunday
9.30am - Every second Sunday

2020: July, Sun.12th & 26th: August, Sun. 9th & 23rd; September, Sun. 6th & 20th; October, Sun.4th & 18th; November, Sun. 1st, 15th & 29th. December, 13th & 27th
The Church of Saint Oliver Plunkett in Grangecon dates from 1978. The architect was Paul O'Daly. This church replaced an earlier structure from the 17th century, an inscription from which is set in the wall of the present church.
Grangecon is a pleasant and prayerful church. Beside it runs the little stream, and behind it there is a community hall. While the architecture is modern, it lends to a beautiful celebration of the Eucharist or other liturgies. The sense of prayerfulness and the gathering of community are hallmarks of this church. The pride of the local community in the care for this building is remarkable.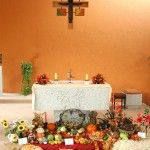 To celebrate 30 years of its consecration in 2008, an icon was acquired for the Church. The icon depicts Saint Oliver Plunkett, who has local connections. The focus of the celebration was strongly ecumenical, and the icon is kept in the Church as a sign of hope and encouragement to people in their journey of faith.